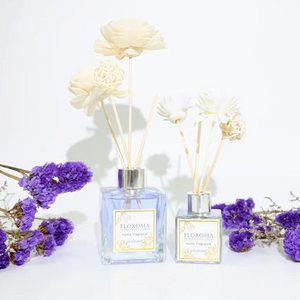 Home diffuser 50 ml
The fragrance of oriental Aisa garden's
All fragrance ingredients are imported from France.
Perfumes are made in Hong Kong, IFRA and MSDS approved.
White Orchid

Only use pure white orchid scent as the main note, No other scents added, awakened the purest and most passionate heart, to the courageous and devoted me in the past; Hey, are you still here?
Note: White Orchid
Gardenia

The gardenia fragrance is like
the smell of a garden in the morning after rain, cool and refreshing.
The white and flawless gardenia blooms slowly, the sweetness that comes with it is natural and soft.
Note: Gardenia
Wild Bluebell

It has a fresh and refined floral fragrance, like a cool breeze by a stream, clear and pleasant, thorough and elegant.
Imagine immersing into a sea of violet flowers, while smelling the light and clear scent of bluebell, just feels like a paradise!
Note: Wild bluebell
Bamboo

The bamboo fragrance makes you feel as if you are walking through the bamboo forest,
feeling the bamboo leaves swaying in the breeze.
The cedar wood scent adds a touch of Zen,
When the fragrance merges with the body aroma, it gives a warm and healing soap scent.
Note: Bamboo, Cedarwood
English Pear and Freesia

The top note is light and slightly sweet pear fragrance, The middle note is a soft freesia fragrance, reveals the sweetness of silk lychee, which is lively and gentle.
Finally, it is finished with a light woody fragrance.
The warm and stable fragrance lasts for a long time, comfortable and quiet.
Note: Pear, freesia, light wood 
Tangerine

The scent of tangerine perfume is refreshing and natural,suitable for both men and women. The bright and pure lemon scent mixed with the sweet orange scent, plus the refreshing grapefruit as embellishment, making you feel like walking in a citrus orchard.

Note: Tangerine, Lemon, Citrus

Frangipani

It is delicate and light, very gentle and healing. 
The slightly sweet floral fragrance is fresh and unassuming, simple and clean, soothing. 
Smelling this scent,  all day's fatigue will be relieved.
Note: Frangipani
Japanese White Tea

The soft and thorough white tea scent is simple and pure, the light and ethereal tea scent is fresh and elegant, natural and soft, low-key and unassuming.
The sweetness of the white tea and the slightly floral fragrance add a touch of gentleness to you.
Note: Japanese White Tea
Osmanthus perfume
Under the sunset of Autumn, the sweet Osmanthus scent brings a little bit of bitterness,
The rich Osmanthus scent surrounds you, brings your happiness everyday❤
Note: Osmanthus
Baby Powdery
A fragrant that is the closest to the natural scent of a human
A simple and natural scent, evokes a feeling of comfort and warmth, just like your natural body scent, assert a feeling of kindness and a woman who is easy to approach.
Suitable for a person who is low-key and enjoys a more natural fragrant.
 Ginger Lily

The blossom of Ginger Lily, is like a white butterfly which flies freely across the prairie. This perfume would make you feel like you are being in the nature, which makes you relax and uplifts your mood. Suitable for office lady and travel usage.
Note: Ginger Lily
Narcissus

A light hint of Narcissus, luxurious, elegant and graceful, a delicate scent, for the delicate and gentle woman that is you.

Note: Narcissus
 Sandalwood

A woody aromatic scent with sandalwood, evoking the maturity of a man, symbolizing a capable and successful man.
For women, it exudes a mysterious feeling, leaving a deep impression, expressing her unsurpassed attractiveness.
Notes: Sandalwood