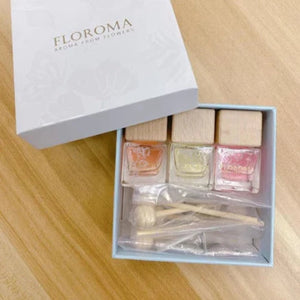 Car diffuser
The fragrance of oriental Aisa garden's
All fragrance ingredients are imported from France.
Perfumes are made in Hong Kong, IFRA and MSDS approved.
3 units per case; 8 ml per unit
English Pear and Freesia

The top note is light and slightly sweet pear fragrance, The middle note is a soft freesia fragrance, reveals the sweetness of silk lychee, which is lively and gentle.
Finally, it is finished with a light woody fragrance.
The warm and stable fragrance lasts for a long time, comfortable and quiet.
Note: Pear, freesia, light wood 

Frangipani

It is delicate and light, very gentle and healing. 
The slightly sweet floral fragrance is fresh and unassuming, simple and clean, soothing. 
Smelling this scent,  all day's fatigue will be relieved.
Note: Frangipani
Osmanthus perfume
Under the sunset of Autumn, the sweet Osmanthus scent brings a little bit of bitterness,
The rich Osmanthus scent surrounds you, brings your happiness everyday❤
Note: Osmanthus
 Ginger Lily

The blossom of Ginger Lily, is like a white butterfly which flies freely across the prairie. This perfume would make you feel like you are being in the nature, which makes you relax and uplifts your mood. Suitable for office lady and travel usage.
Note: Ginger Lily